D18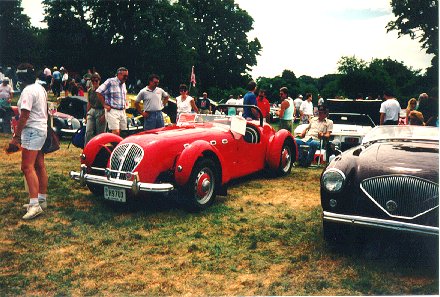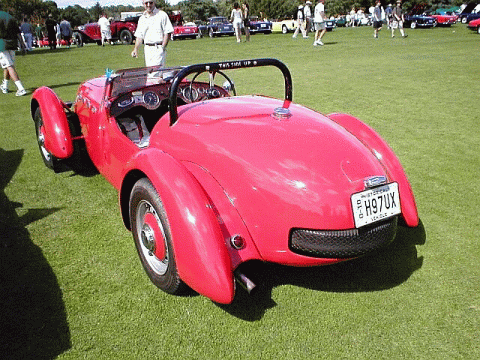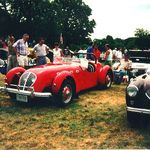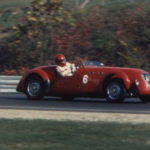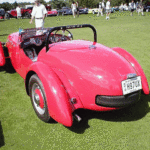 known owners:
Mr Hopkins 1950's USA
Owners not known before 1959
_ _ _ _ _ _ – USA 1959 –
Color:
originally . red
black
red
Events
. . . . . SCCA (Sports Car Club of America) race, . driver: Jim Bennett
2003 . Pittsburgh . . Vintage Grand Prix
Appendix
I spotted this 1950 Healey Silverstone D-18 at the Pittsburgh Vintage Grand Prix in 2003. It stood in the midst of the neatly trimmed golf course and screamed for attention. There were very few people that walked within 100 yards of this car that didn't change course to get a closer look. It is a very unique automobile and one of only 22 known to exist in the United States.
Jim Bennett, now retired, has owned this Healey since 1959. He said, "It was just an old car when I bought it." The hobby has changed a lot since then and he regrets selling the other one that he purchased in 1957. Today, these cars are valued in excess of $100,000.00. Jim says he drives his car to shows and other events. No trailers for him. He believes that cars are supposed to be driven and enjoyed. He has no desire to make this a 100-point car. In fact, he does not care much for cars that are over restored. "It's hard to enjoy a car if you are afraid to get a chip in the paint", he said. Jim's car has a couple of chips up front, but it does not diminish the unique beauty of this sports car. This is a wonderful example of the Silverstone model.
This was a car designed for racing but also makes a fun touring car. There is no trunk, just a 22-gallon fuel tank under the rear deck. The headlights are hidden in the front grill, which makes night driving and cooling a little more difficult. However, with a high torque twin cam engine, four speed, tight X-frame chassis, forged aluminum trailing arm suspension, and coil springs all around, the automobile handles like a true sports car. The total weight of this aluminum-bodied car is barely more than 2,000 pounds, The 2.5-liter, twin-cam, Riley engine puts out a little over 100 horsepower. Jim declares that the power to weight ratio is very good. He has had third gear up to 90 mph and fourth will carry him over 110.
Jim Bennett drove his Healey in SCCA races and says he has won a few. It runs very strong and just out-lasts the field. He is very proud of the high dependability engineered into this car. The drum brakes are not on this car's list of strongest assets. However, they were very effective for their time. All four corners are equipped with Girling drum brakes. Advanced materials used on the brake linings were the only improvement choices available and Jim has made that modification over the years. At 2000 pounds he can still stop this car with authority.
The torque tube drive was fairly unique to this car in 1950. It is still used today on some very high-end automobiles like Jaguars and Aston Martins. It has proven to be a very reliable design. It's basically a solid mounted shaft in tube design connecting the transmission to the rear end. The additional weight of this unit is offset by the stability in the performance. It is a very bulletproof design.
You can see this car around Ohio and Pennsylvania throughout the summer. Jim expects to drive it to Pittsburgh again for the next Vintage Grand Prix.
Jim Bennett, in late April of 2004.
Listing ID

:

735

Chassis

:

D18

Reg. Nr.

:

H 97 UX